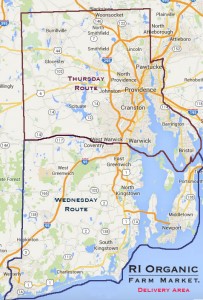 We deliver right to your home or office!
Our Wednesday route includes: Jamestown, Newport, Middletown, Portsmouth, North Kingstown, Coventry, East Greenwich, West Greenwich, Exeter, Westerly, Charlestown, Narragansett, South Kingstown and Richmond.
Our Thursday route includes: Woonsocket, Lincoln, Cumberland, North Providence, Scituate, Burriville, Smithfield, North Smithfield, Warwick, West Warwick, Cranston, Providence, Pawtucket, Johnston and Barrington.