RI Organic is a family run business led by Kim and David McGee. We have a passion for bringing our customers the best organic fruits and veggies available. We believe chemicals and genetic modifications should not be in the foods we eat, so we have made it our mission to improve access to organic, chemical-free, GMO-free fruits and veggies for our friends and neighbors in Rhode Island. We love working with the incredible Organic Farms who work so hard to grow exceptional organic fruits and veggies. We partner with these amazing farmers to bring you the best organic produce and the best selection available.
Kim McGee is pleased to serve on the board of directors of NOFA/RI (Northeast Organic Farming Association of Rhode Island), she is also a certified Food Safety Manager and an avid Master Gardener and cook. She also holds a BA in Creative Design from Rhode Island College, and a MBA in Creative Marketing from Bryant University. Kim also volunteers at 2 vegetable donation gardens in RI, where all vegetables grown are donated to the RI Food Bank.
Phone: (401) 615-5151
Email: hello.riorganic@gmail.com
Facebook Page: https://www.facebook.com/riorganicfarmmarket

We deliver Farm Share Basket year round!
Farm Share deliveries are made on Wednesdays and Thursdays unless other arrangements are made.
Delivery Area: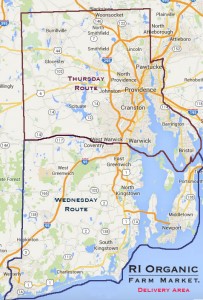 If you would like more information, please email us at:
hello.riorganic@gmail.com
Not-so-Small Print.
We don't have a need for fine print, but there are a few guidelines we ask our subscribers be aware of:
All subscriptions bill weekly on the Friday before your delivery day.
You can make changes to basket size, delivery location or skip a scheduled delivery until 3pm on the Thursday before your delivery day. This is a firm cut-off time, as all orders are locked in our system after this time. Please submit change request to: hello.riorganic@gmail.com
Cancellation Policy: Please allow 10 days to cancel your acct billing. Simply send a cancellation request to hello.riorganic@gmail.com. All baskets billed during this time will be delivered on your normal delivery schedule. Due to the perishable nature of our product and our commitments to our farmers, we cannot make exceptions to the 10 day cancellation policy.
Wooden Baskets: We often get requests for wooden baskets. We do sell our wooden baskets in new condition for $8 each. Subscribers have 30 days to return the wooden baskets in the same condition in which they were received. Baskets not returned or returned in unusable condition are billed at $7.
We don't really have a number 5, so we will use this space just to tell you how awesome you are. YOU ARE AWESOME. Thanks for supporting Organic Family Farms, and feeding your family the most nutritious food available!